There has been much recent chatter in the blogosphere on the declining audience for jazz. In the Wall Street Journal this weekend, Terry Teachout
points out
that in the process of becoming a self-conscious art music during the middle of the twentieth century, jazz music became no longer "capable of appealing to the same kind of mass audience that thrilled to the big bands of the swing era."
Peter Hum
investigated a number of approaches to expanding the jazz audience on Thursday, including hybridizing jazz with other musical forms (an approach which yielded mixed results during the 1970s), promoting younger artists more heavily, and getting John Scofield into the next guitar hero game (which I think would be a great idea regardless of the implications on the audience of jazz). At A Blog Supreme, Patrick Jarenwattananon
notes that attendance at all "high-cultural activity" is down
(likely due in part to the economic crisis), but is nonetheless troubled by the shrinking audience.
I think jazz musicians can take a lesson from alternative comedy in expanding the audience. In the wake of the comedy boom of the 1980s, a number of comedians like David Cross, Janeane Garafolo, and Patton Oswalt began looking for new venues for stand-up. The idea was to perform where their audience would already be, rather than pulling their fans into the already-established network of comedy clubs. As Nathan Rabin of the AV Club
put it
, "Fans of Comedians mainstays Patton Oswalt and Zack Galifianakis are more likely to check out an indie band at The Troubadour than shell out $40 to see a
Tonight Show
regular play Señor Ha Ha's Laughatarium." So why not follow your fans to their native setting?
While this movement initially grew out of Los Angeles, alternative comedy scenes also began to flourish in Seattle, New York, Chicago, and a number of other cities. What is important to remember, though, is that instead of altering their acts to make them more palatable to younger audiences, these comics simply brought there acts to venues where young people who would otherwise like their material would go to see a comedy show.
I do not know if the "answer" to jazz's audience question will be to move performances to indie rock clubs (though some performers, like The Bad Plus and Medeski Martin & Wood, already play a number of gigs each year at these kinds of venues), but I am certain that the current jazz club paradigm repels a good number of people from live jazz. The club itself is a good atmosphere for jazz; small and intimate, enabling a personal connection between artist and audience. But it is not everyone's ideal. This is not a new criticism. Jazz clubs are expensive (one night I saw Kenny Garrett in Miami at the now-defunct Arturo Sandoval's Jazz Cafe, and paid a $30 cover with a two-drink minimum on top of that - and those two drinks were not cheap). Compare that to an indie-rock venue, where you can see a good band for $20 (and the beer is cheaper).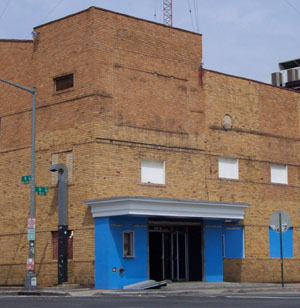 The
9:30 Club
in Washington, DC, where you can see Son Volt, Mos Def, Janeane Garafolo, and The Bad Plus.
Jazz clubs are also not mixed-use. Most people listen to a variety of genres, and are more likely to attend shows at the same venue if it offers an eclectic range of performances. Jazz clubs, while housing a diversity of jazz artists, largely stick to jazz, which may limit the marketing possibilities for jazz. The 9:30 Club in Washington, DC, hosts a variety of acts ranging from hip hop to indie rock to standup comedy, as well as numerous points in between. It would seem like an advantage for the club itself to draw from diverse fanbases, and that at least a small part of the audience from a Mos Def show might be interested in seeing a jazz act at the same venue if they saw some promotional material (posters, flyers, etc.) for that act while at the Mos Def show (I believe the marketing term for this is cross-promotion).
Maybe we won't see thousands of budding young jazz fans flowing out from mixed-use venues like these, but it certainly would not hurt to try and expand the live-music model, which is limited mostly to jazz clubs and summer festivals. Jazz musicians may not reap the same rewards that alternative comics found, but they cannot wait around for their audience to find them, they must seek them out personally.
UPDATE: Howard Mandel thinks
Teachout doth protest too much
, while Jason Parker is
onto something
.



Vanguard photo via

Professor Bop's flickrstream, 9:30 Club photo via Excess Void.